Gluten Free Peanut Butter Chocolate Chip Cookies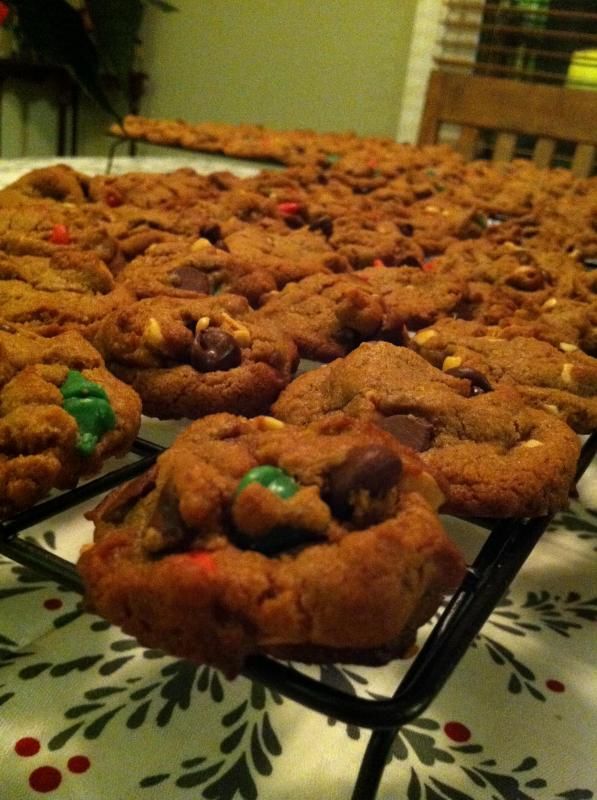 Boy, that's a mouthful, right?
This year for my annual cookie exchange, I made gluten free peanut butter chocolate chip cookies.  One of my best friends Brook has to eat gluten free, and since she comes to my cookie exchange each year, I like to make a cookie that is gluten free but super delicious so that everyone will enjoy them!
I've made these cookies a multitude of times in the past, and each time I make them, they get eaten up immediately.  So this year's choice was a no-brainer!  If you or someone in your life has to eat gluten free, or just loves delicious peanut butter cookies, you need to make this recipe immediately!
Gluten Free Peanut Butter Chocolate Chip Cookies (adapted from THIS recipe)
INGREDIENTS 1 cup crunchy peanut butter 1 cup brown sugar, packed 1 egg 1 tsp. baking soda 1 tsp. vanilla extract 1/2 cup semi-sweet chocolate chips (I used a holiday mix for my Christmas cookie recipe)
DIRECTIONS Preheat oven to 350 degrees.  In a large mixing bowl, cream together peanut butter, brown sugar, egg, baking soda, and vanilla.  Fold in the chocolate chips.  Spoon by tablespoon onto parchment paper-lined cookie sheets and bake for 10-12 minutes.
Cool on a wire rack and enjoy!