Personal Style: Animal Print & Red Lips
Happy St. Patrick's Day all!  I hope everyone stays safe this weekend.  I, for one, am not venturing out to the parade on Delaware Ave.  Instead I am staying inside my warm house and baking some delicious treats which should grace the blog this week!
This past Friday night, we attended the pop-up art exhibition "Fragments" in downtown Buffalo.  I used to work retail with one of the artists, Chuck Tingley.  He's super talented and I was so impressed with the art show.  I'll be making a separate post about it tomorrow!
Here is the look that I put together for a night out on the town.  I wore the outfit to work for casual Friday, but added the red clutch and the red lips for a little night time sass.
When wearing a lot of dark colors, I could have easily paired a black clutch with this, but I think the punch of red is exactly what I needed to keep it from being boring.
This is my all time favorite red lipstick.  MAC Russian Red.  It's perfect...I can only wear blue-based reds (orange-based reds make me look clown-ish), and this is the greatest color that I have found for my skin tone.  Plus, I like the fact that it is matte.  It reminds me of something a pin-up girl would wear.
A sexy tousled ponytail finished off the look...I tried the "wrap hair around hair tie" look for the first time and I love it!  Just take a strand of hair, wrap around ponytail holder, and secure with a bobby pin.  So easy!
DETAILS
Sweater - Gap - SIMILAR
Animal print button up - JCrew Factory - SIMILAR
Jeans - Target
Clutch - Target - SIMILAR (Save), SIMILAR (Splurge)
Earrings - Lauren Conrad for Kohls - SIMILAR
Lipstick - MAC Russian Red
And just to prove that I'm not a COMPLETE St. Patrick's Day scrooge, I'm wearing my green Sabres shirt today...no comment on the status of our team right now  *sigh*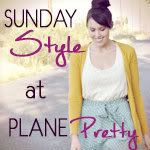 Linking up with Sunday Style at Plane Pretty!