Nickel City Gritty: Katie Ambrose
I've been a freelance makeup artist since becoming certified in 2006. My entire life I've been interested with makeup artistry and the fundamentals behind it. I remember sitting in my bedroom and reading Kevyn Aucoin's books Making Faces and Face Forward for hours, taking in as much information as I could.
When Groom Service opened up in Buffalo a few years ago, I was super excited. A dry bar and makeup studio?!? How incredible is that! I couldn't wait to connect with the owner, Katie Ambrose, and learn all about her makeup artistry career. As luck would have it, a completely random, yet fabulous, photo shoot recently brought us together, and I was thrilled when she agreed to be a part of my Nickel City Gritty series.
Katie had an incredible career in the beauty industry in New York City before starting Groom Service when she moved back to Buffalo. When you walk into their location in the Hotel Lafayette, you know that you are going to get pampered by some of Buffalo's best hair and makeup artists. Not only is the place absolutely adorable and chic, they carry an incredible line of products that will leave you feeling so beautiful and confident.
When I was interviewing Katie, I felt myself soaking up all of her positive energy and could really tell just how much of her heart is poured into her work. I love talking with fellow makeup artists, as I get to learn from them and really feel their passion. Make sure to press play on Katie's Spotify playlist while you read about her killer style, love of video games, and her terrifying spirit animal.
This is Nickel City Gritty, and this is Katie Ambrose of Groom Service.
Tell me about how Groom Service came to life.
My mom has a salon in Hamburg, she's had it since she was 18, so I grew up in the chair next to her watching her do hair and work with clients. I remember as a teenager I started recreating the look on the cover of Seventeen magazine on myself, and I was always obsessed with images in magazines. I'd have magazine pictures posted all over the back of my door in my room. I was also obsessed with MTV, because I am Generation X, the MTV Generation. I spent countless hours watching music videos and being inspired by the hair and makeup that was in the videos. But I grew up in Hamburg and I was told that I needed to wear a blue suit and become a professional woman, which, to me, didn't involve any kind of art whatsoever. However, the art teachers in high school tried to get me to go to Pratt, Parsons, FIT in New York, but I went to a Liberal Arts college instead, I went to Ithaca, and i got a degree in marketing. So how I started Groom Service was that I was moving back to Buffalo after being gone for 20 years and after having a 15 year career in the industry behind the scenes. I was doing makeup and hair for huge ad campaigns and tv and celebrities. I came back to Buffalo and I was scared to come back because I was like, "What am I going to do in Buffalo?" I thought that I was going to have to keep my clients in New York and just sleep in Buffalo, however, the timing was right. The beautiful thing about Buffalo is that you can start your own thing here. I rent an apartment from Rocco Termini next door and I was in the laundry room and I ran into him as he was collecting quarters out of the laundry machine and I said, "Hey, how about giving me that little space over there (in the lobby of the Hotel Lafayette) to just have one tester unit of makeup and I'll work out of there doing bridal makeup." and he said, "Well, I think we should have a salon in the Hotel." so I said, "Well, I don't cut or color hair, but how about a dry bar?" So that night, I had sent him my business plan...it was like an 18 page business plan. A couple weeks later he called me and said that the people who were renting this space were leaving and did I want my beauty bar. I immediately said yes. The idea of Groom Service has evolved from me becoming a makeup artist for women every day to having a staff of people providing hair and makeup services and a lot of bridal services. It's grown a lot.
Describe your personal style.
Oh gosh. I struggle with my personal style because I feel like I'm challenged, clothes wise. I can do makeup and hair until the cows come home, but I'm constantly wearing all black all the time. I have my black yoga pants that I wear and they any kind of black comfy shirt. So my style is very simple. I look at people like Norma Kamali and Donna Karen and all of these very mature women who have this great sense of simple style and I really admire them. And then I look at someone like Iris Apfel who has the crazy massive glasses and accessories and stuff and you know, I will always dress really simply and then I'll do one statement item. So, I have a large pair of Tom Ford glasses that I wear and then I always wear some kind of spiritual accessory. I've got these mala beads that I wear and stones that I always wear. Oh, and I always wear sneakers. You'll see me in running shoes. Even when I walk onto set on a big job I'll wear sneakers with good arch support. I'm done wearing high heels!
What are some small things that make your day better?
I love waking up with my cats in my bed with me, I love cooking healthy meals with my boyfriend, going to pilates, and I love getting a spray tan. I feel so good when I have a little bit of color on me, I feel like I look healthier. Actually, when I spend some time doing my hair and makeup in the morning. I tend to be more natural, and most days I don't wear makeup, but if I do spend time doing my makeup in a natural way and putting lashes on, I feel like lashes will make my day better. Like, if I'm in a bad mood, my day will be saved by putting lashes on. And doing my brows. And I have to have money in my bank account...I can't be broke. I've gotta have cash on me.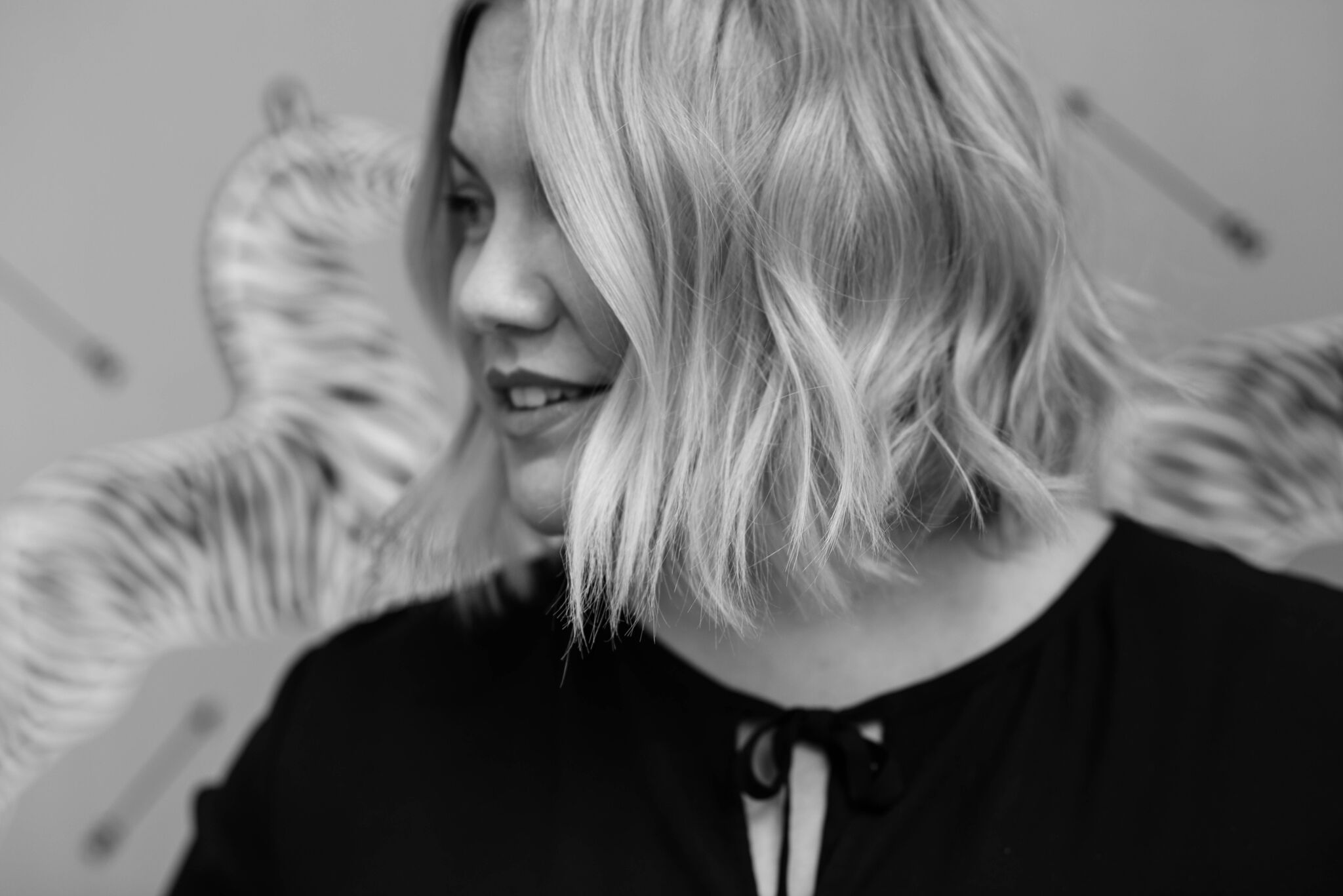 "This year I'm practicing radical acceptance instead of fighting things."
Photo provided by Katie Ambrose
What is an accomplishment that you are most proud of?
I have a few. One of them is raising five kittens. I've had them since they were three days old. I went to walk dogs at an animal shelter 16 years ago and I came home with five kittens and they survived. They normally don't survive that long without their cat mom. That was a huge accomplishment for me. Also I had an art show at Benjamin Gallery a few years ago with my photography which that was a dream come true for me. I think another major accomplishment for me was the ability to stand on my own two feet after a divorce and after having relied on a man for everything, including a roof over my head. I found that I can actually support myself and I don't rely on anyone for anything. My life is getting better every day. There are a few thing that I did and some major life changes that I've made which are behind that, too. I try to stay grateful for what I have. This year I'm practicing radical acceptance instead of fighting things.
What is something that you've learned in the past week?
That cave men used to shave with rocks! I had to do a history of hairstyling for school. Also, in the 1800's, women who wore their hair down and loose were seen as sexual or supernatural...witchy. So you'll see Victorian era women used to wear their hair up and tied tightly on their head. Then as time has gone on, probably in the 50's, women started wearing their hair down. But the beauty industry and the history of hairstyling dates back to 500 BC and it's kind of amazing. People used to dye their hair with henna back in the day. Oh, I also learned how to cook a really good spicy vegan lentil soup!
What is the first thing that you bought with your own money?
I remember when I was in 4th grade, I spent my entire life savings, which was like $10, on my friend's birthday. I went to Ames in Hamburg and I bought her a phone. Back in the 80's, those really ergonomic phones were pretty cool. I mean, they were still corded phones, but they came in all these crazy colors and some of them were clear and lit up when it rang. I just remember that I have a diary entry from back then that I had spent $10 on a phone for my friend's birthday at Ames.
What is one person who, if you met them, would reduce you to a crying mess?
Kevyn Aucoin. I feel like he left us a legacy and his life was SO short and he was so brilliant. I feel lucky that I get to be friends with people who worked for him and knew him and I know it sounds crazy but I feel like I carry his spirit with me and I feel like all makeup artists carry his spirit with them. Everything that I know about makeup I can relate back to his books.
What is your spirit animal?
My spirit animal is the bear. When I was younger, my family owned property in Pennsylvania that my ancestors had left to them and my grandfather and I would ride ATV's around in the woods. He used to carve a path through the woods. As I got older I felt like something was watching me and I started to get scared. Nobody had ever seen a bear there. My family had lived on that property for 100 years and nobody had ever seen a bear. One day I just felt like something was watching me, I was about 14 or 15 at the time. I came back to the cabin that we had on the top of the hill, and I walked in and asked my grandfather if there were any bears out there. I said that I was really scared because I felt like something was watching me and I felt like it was a bear. He said, "Honey, don't be crazy, there are no bears." And then about an hour or two later, out of the same path, came the biggest bear. Huge. He came out and scratched in a tree and sat in between the cars, and he was so big that when he was sitting, his neck and his head were above the cars. It was a giant bear in Potter County Pennsylvania. So I just feel like, how did I know?
Where do you go or what do you do when you need to de-stress?
I have a meditation corner in my home. I have books that I like to dip into. Even if it's just for a minute or two, read a little bit of morning meditations to have a couple minutes of quiet time. I also think that exercise is a really good de-stresser, so when I do my pilates or any other form of exercise, I'm cyclical with exercising, so sometimes I'll exercise like an athlete and sometimes I'll take it easy. In the summer I like to kayak on the Buffalo River, Lake Erie, Tonawanda River, and that's so relaxing for me.
What is on your playlist?
Calvin Harris, the entire soundtrack to the show Insecure on HBO, Passionfruit by Drake, that's one of my favorites, The Juice by Hero, Run Me Dry by Bryson Tiller, Doin It Right by Daft Punk, Never Give Up by Sia, I love Sia, You and Me by Flume, Pyramids by Frank Ocean, oh my god that's like the best. I listen to a lot of different stuff. I've got other playlists that have Frank Sinatra, Brandi Carlile, David Bowie, George Michael I love new music, too and playing music when I work. It's an important part of our day.
If you could have one superpower, what would it be?
If I could have one superpower, it would be to be in five places at the same time. Right now, like at this moment, I want to be in New York, LA and Buffalo and to feel the warmth of the earth in California and eat at Cafe Gratitude every day but have all of the job opportunities that I had in New York but then have the wonderful quality of life that I have here in Buffalo. Like, if I could meld the three of those in some sort of superhuman way I would do it. I'm finding that at this point in my life, and I don't feel like I ever used to be like this, however there aren't enough hours in the day, and I had a friend in high school who used to say that and I never understood what she was saying. So, if I could add some hours to a day that would be great too, because 24 is not enough. Life is so short and fleeting that it truly is about this moment, but I would like more moments.
What are your favorite bars or restaurants in Buffalo?
I don't go to bars because I don't drink. So, for restaurants, I love Seabar, I love Sun over on Niagara, Rowhouse of course, I love Betty's and Cantina Loco. Once in a while if I feel like getting dressed up I like to go to Patina 250 for fun fancy. Oh, I love Grindhaus on Allen because they serve a lot of vegan and vegetarian food and they've got a great VLT. I also go to Mythos and Kostas a lot.
What is something that your friends would consider to be "so you?"
My friends think I'm very stylish, and they think I can get away with anything style-wise, like a bright colored crazy pair of sneakers or my big glasses or a bold lip. I have a friend that used to write down quotes that I used to say and she would call them "Katie Quotes." They were very off the wall! I feel like people can see me better than I see myself and I think that's how it is for a lot of people. Maybe I don't appreciate my style as much as I should. I think other people appreciate it more.
What is something that you thought you'd grow out of but you haven't?
Video games. I go to the mall and play The Walking Dead video game at Dave & Busters and I do that once a month and just fill up a card and I've gotten my friends to do it with me! A couple of my friends in their 50's or 60's will come with me and sit down and be like, "I love this!" I could do it for hours, but I usually end up capping it at like an hour. I'll be swarmed by these little kids who are like, "Why is this middle aged woman playing The Walking Dead video game?" It's so great. I've always loved video games and at my house in New Jersey I had a Playstation that I left there. It's my biggest regret. I would play Rock Band and Mario Brothers and stuff. That might be something that I want to get for myself again this year! It's like kind of as fulfilling but not as fulfilling as marathon watching your favorite show.
What do you want to be when you grow up?
I want to be so many things. I don't want to just be one thing! I want to be a little bit more bohemian. I have this image in my head of someone who is just a little bit more bohemian than I am. I feel like I do wear Birkenstocks, and I do wear beads, however, I just feel like being bohemian as a woman would feel a certain way and lashes aren't important to that girl. *laughs* They can go around with no makeup on a feel great about themselves. I would like to be a little bit more successful financially and have some investments. I really envision myself living in the Hollywood Hills in a home overlooking some canyon living a bohemian lifestyle, but I'm in Buffalo and living in an apartment and I'm a makeup artist! But a girl can dream, you know? Material things aren't really important to me. What's important to me is to make sure that I can sustain myself and I can feed myself and go on a vacation if I want to or afford to own my own apartment. Very basic, simple things. I feel like I'm a very simple person. That's the beauty about living in Buffalo. It's like I don't have the stress of living in New York City anymore. That was very stressful for me. I couldn't handle it. I moved back to Buffalo to heal. Buffalo is such a wonderful place to feel loved and supported. The people in Buffalo are so amazing. But, every time I think about growing up, it's like, what age is "grown up?" I feel like I'm 18. I think we're socialized to think that our life has to go a certain way by a certain age. I'd like to be a 70 old photographer or a bohemian hip artist living in Los Angeles at 80. I'm cool with that! I think letting go of social standards that when I grow up I'd want to be the best, most evolved version of myself in that dreamy bohemian way. My life today is beyond my wildest dreams, and I hope that in another 20-25 years that it just keeps going in that direction.
Thank you so much for meeting with me, Katie! You can find Groom Service inside the Hotel Lafayette at 391 Washington Street. They specialize in blowouts, hair styles, and makeup services. Visit their website for more information.