Triple Berry Pie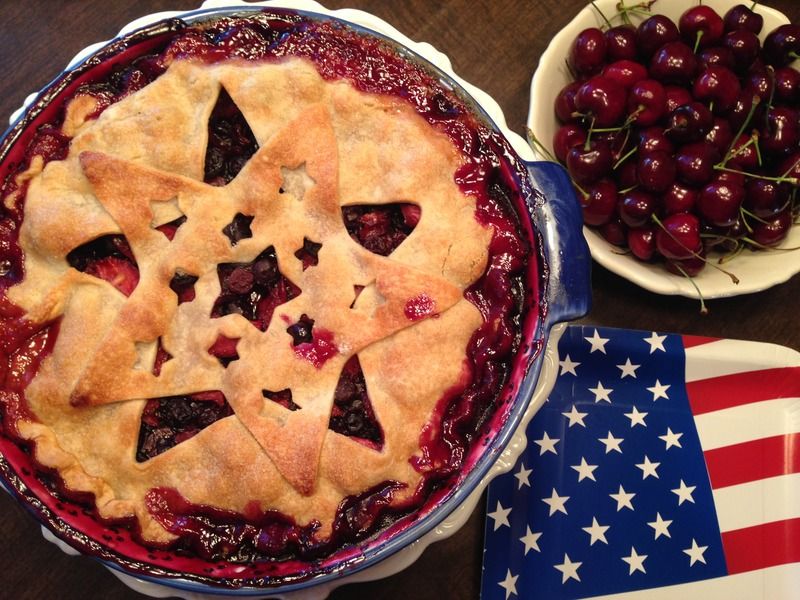 Whenever there is a party, it's pretty much an unwritten rule that I'm the one who is going to bring dessert.  My parents threw a little 4th of July party this past weekend, and I was toying with the idea of making a cake, but I wanted to bring a dessert that just screamed summer.
After thinking about it for a bit, I decided on an All-American pie...a triple berry pie to be exact!
I found a great looking recipe on the Pilsbury website, and just tweaked it a little since I had blueberries, strawberries, and cherries on hand.  This pie turned out incredible and definitely tasted like summer!
Triple Berry Pie (adapted from THIS recipe)
1 package refrigerated pie crusts, softened as directed on package 1 1/2 cups sugar 5 tablespoons cornstarch 1/4 teaspoon salt 4 cups fresh or frozen (thawed and drained) blueberries 2 cups fresh or frozen (thawed and drained) sliced strawberries 2 cups fresh or frozen (thawed and drained) pitted and sliced cherries 1 tablespoon milk 2 teaspoons sugar
Directions: Heat oven to 450°F. Make pie crusts as directed on package for two-crust pie using 9-inch pie pan. In large bowl, stir together 1 1/2 cups sugar, the cornstarch and salt; gently toss with berries. Let stand 10 minutes. Spoon into crust-lined pan. Top with second crust in whole form or lattice top. Brush crust with milk; sprinkle with 2 teaspoons sugar. Place pie on middle oven rack; place large cookie sheet on rack below pie pan in case of spillover. Bake pie 15 minutes. Reduce oven temperature to 375°F. Bake about 40 to 45 minutes longer or until crust is golden brown and filling is bubbly. Let stand 2 hours before serving.