A Weekend in Pittsburgh: Part One!
A few weeks ago I received an e-mail from the kind folks over at Visit Pittsburgh.  They invited myself and a guest to spend the weekend in Pittsburgh as part of the "Quad City Blogger Weekend" and experiencing all that the city has to offer.  They would put us up in a hotel and give us some spending money to have a grand old time...how could I say no?!? I've never been to Pittsburgh before, so I was super excited to do a little bit of exploring.  The drive wasn't bad at all...it was only about 3.5 hours away from Buffalo.  Road trips are one of my favorite things!
When Nicholas and I finally got into the city, I was delighted when I saw where we would be staying.  We stayed in the Renaissance Pittsburgh Hotel.  It was stunning!  It is a really old building in the heart of downtown Pittsburgh...I love the old architecture on the outside.  But even though the outside was old, the inside was modern and beautiful!
The ceiling was gorgeous!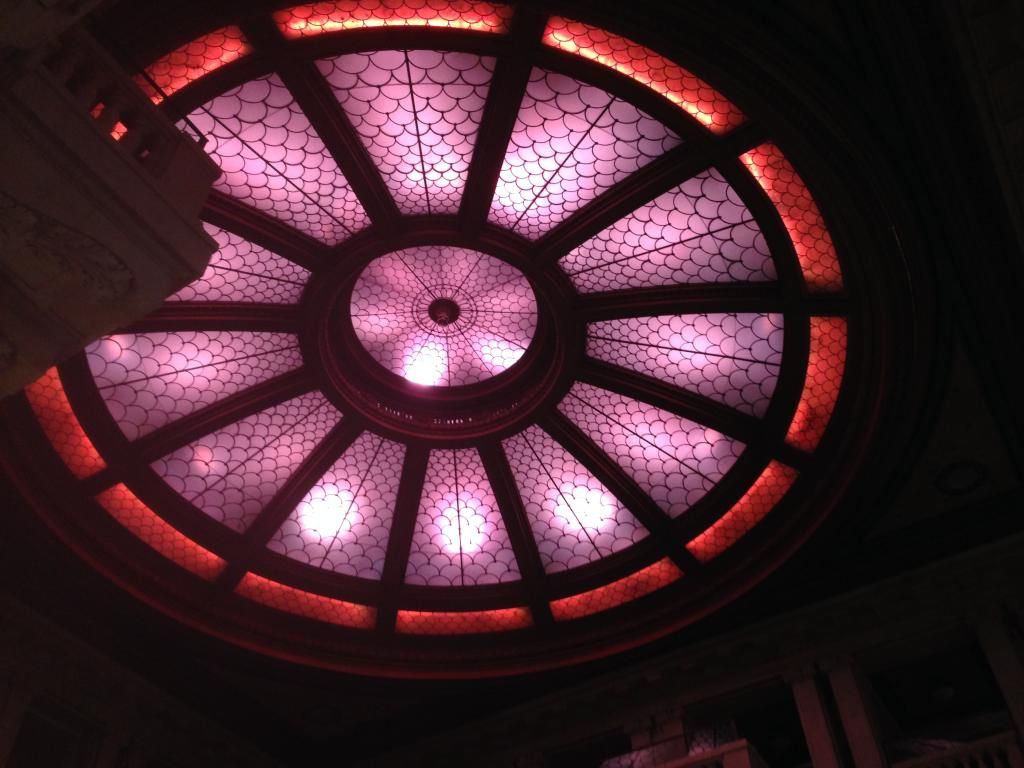 I loved these stairs...so elegant.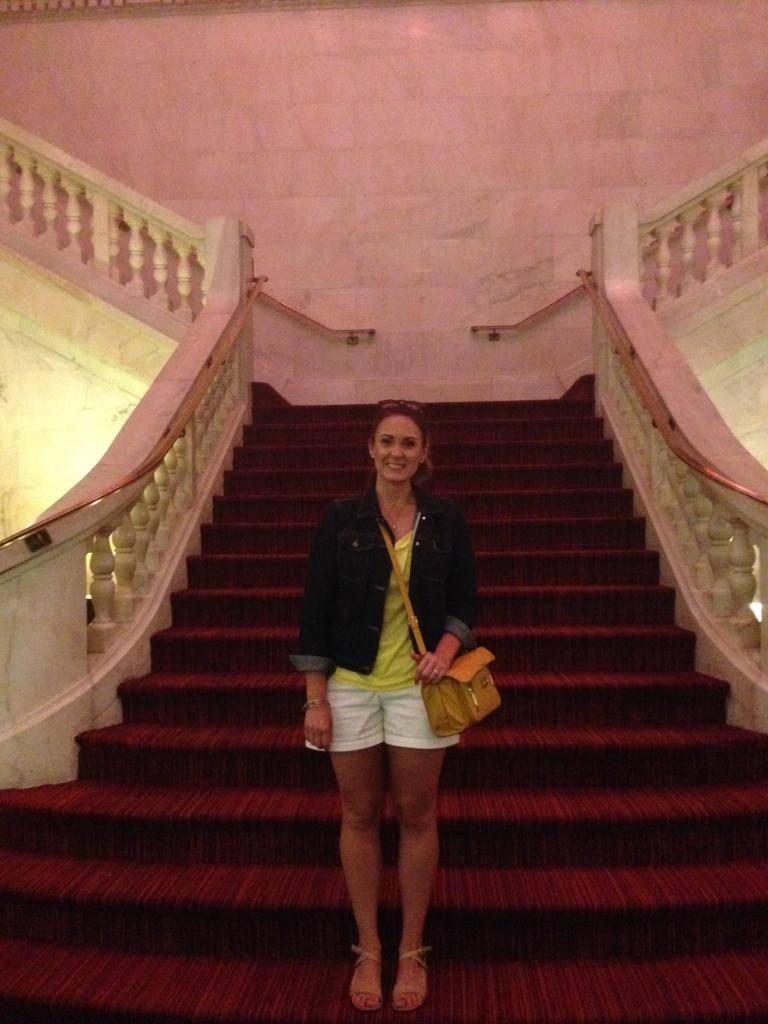 Our room was even more beautiful.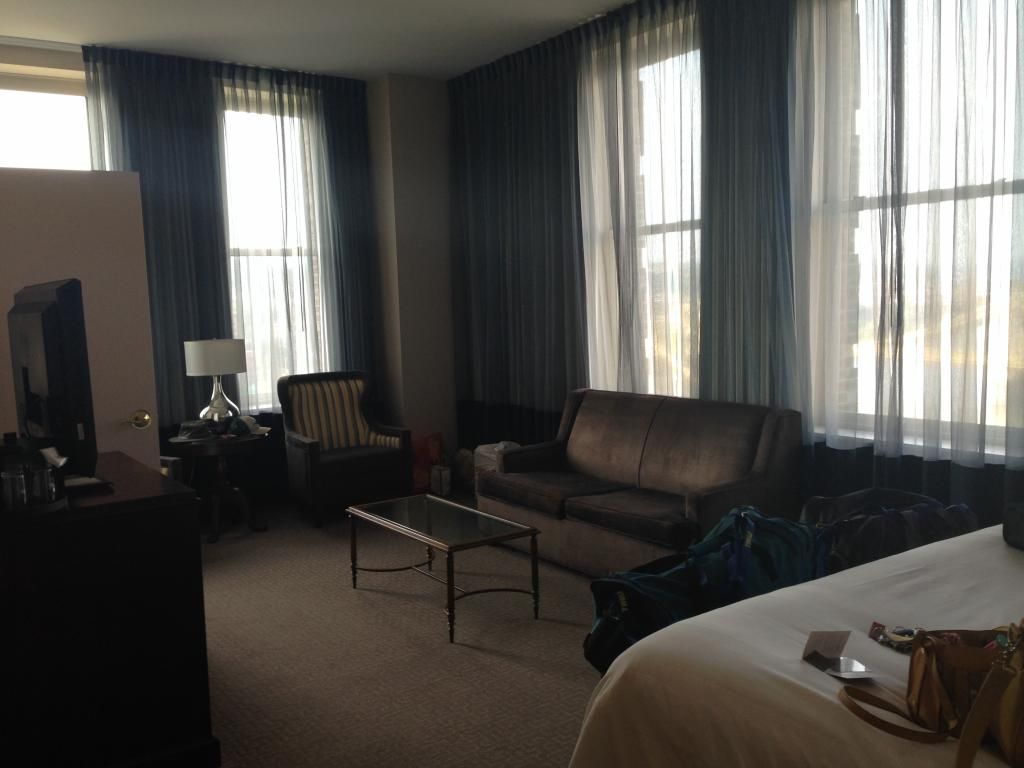 And THIS was the view outside of our window!  Are you kidding me?!?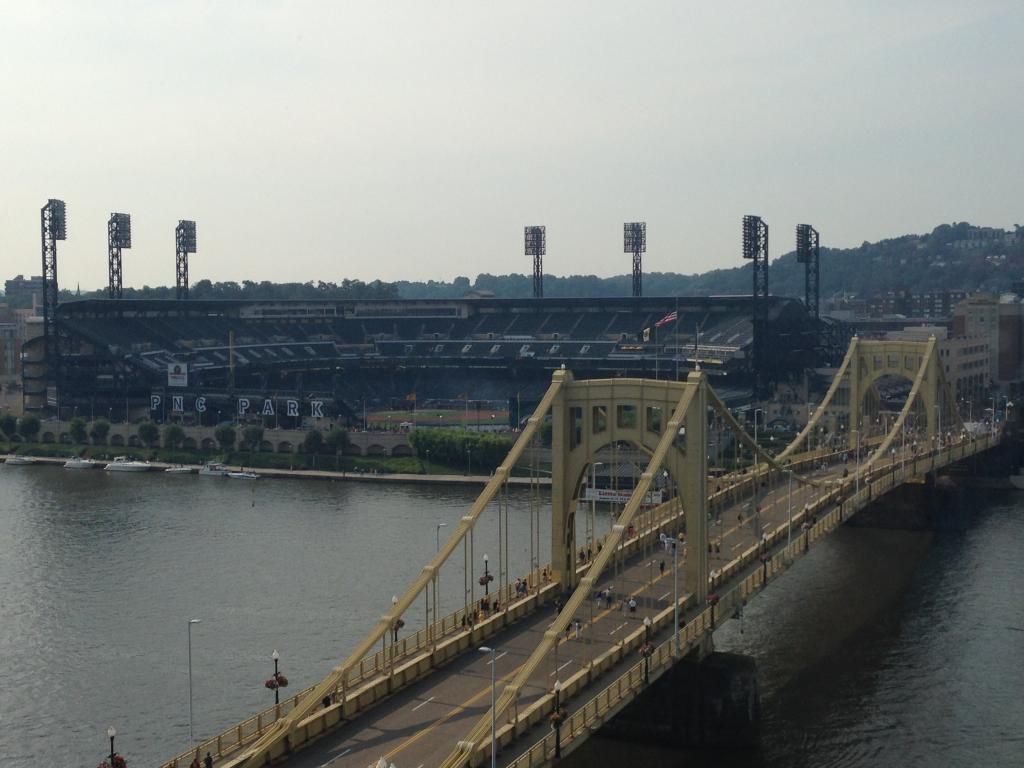 If we didn't already feel like major VIP's, look at what was delivered to our room while we were getting ready: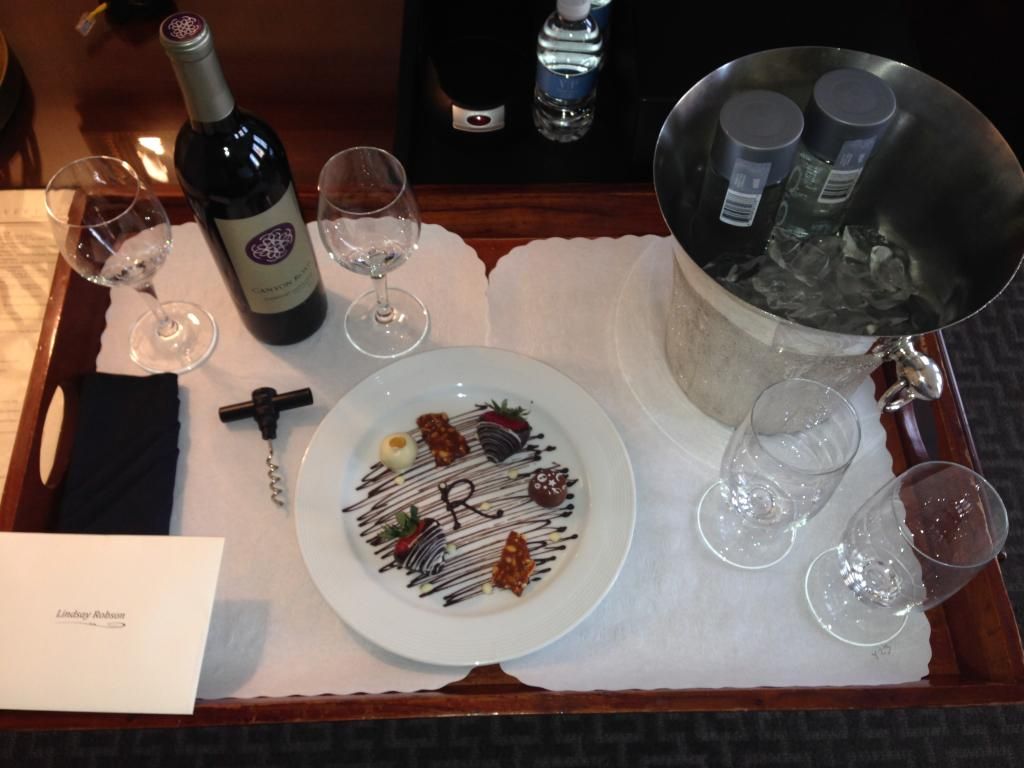 So fancy! Visit Pittsburgh really knows how to make a girl feel special!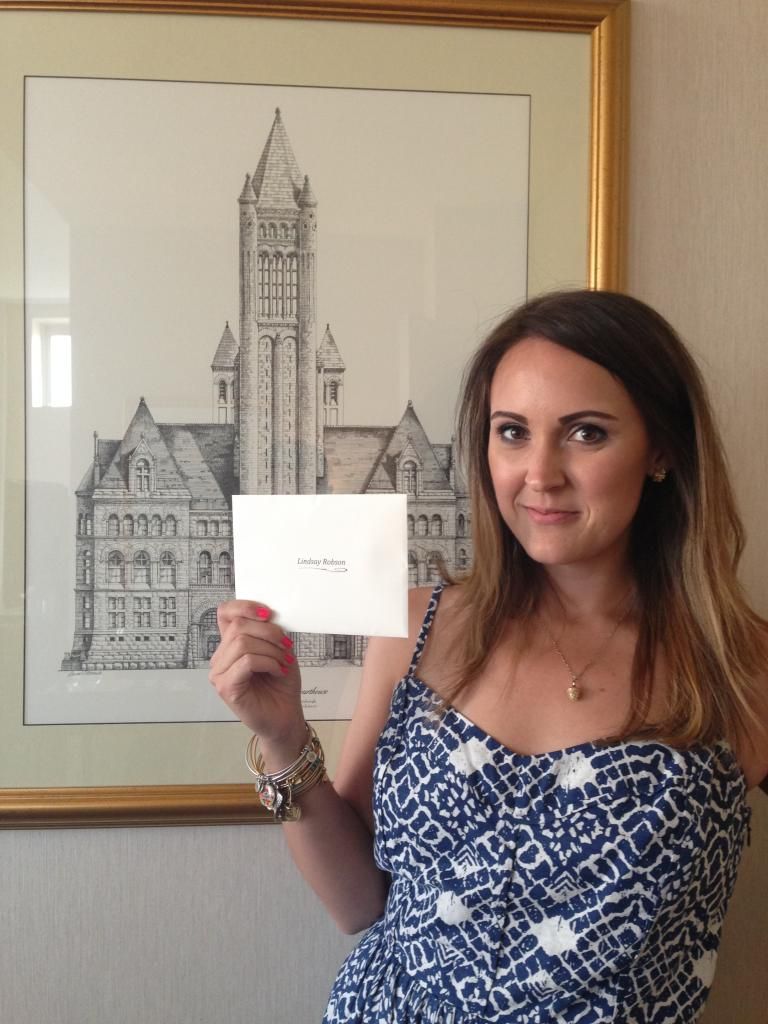 You better believe that we demolished that plate of sweets. The truffles were insane.
We made pretty good time getting into the city, so we had about an hour to change and get ready for dinner. We were meeting Visit Pittsburgh and the other bloggers invited for the weekend at a restaurant called NOLA On The Square, which was just a short walk from our hotel. The weather was perfect outside, so we were happy that we could walk!
Here's us looking all dapper in the elevator.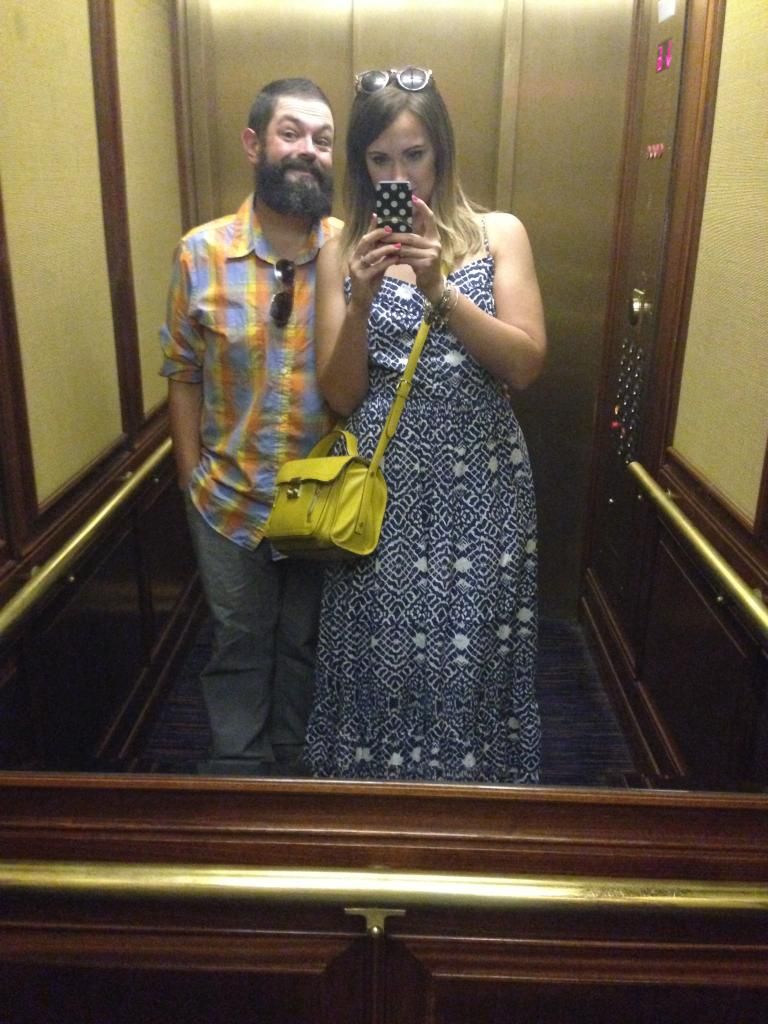 The restaurant was located in Market Square, which is kind of exactly what it sounds like. It's a cool little section of the city that has restaurants in a square, and in the middle are a bunch of tables and umbrellas for people to sit out and enjoy some food and hang out.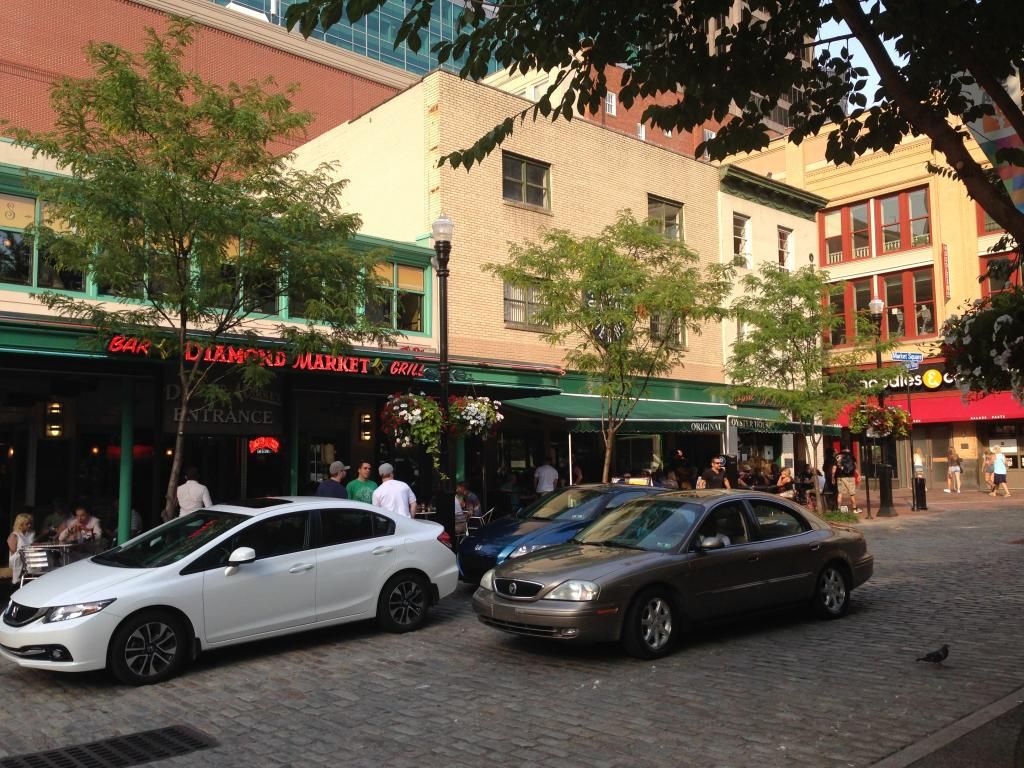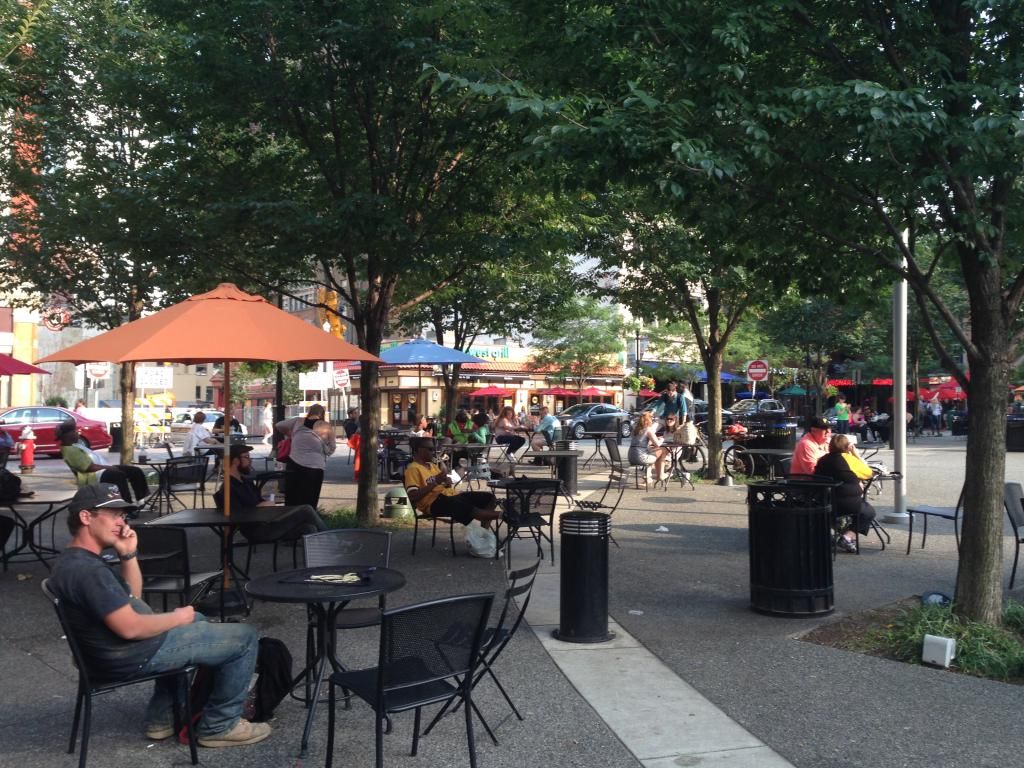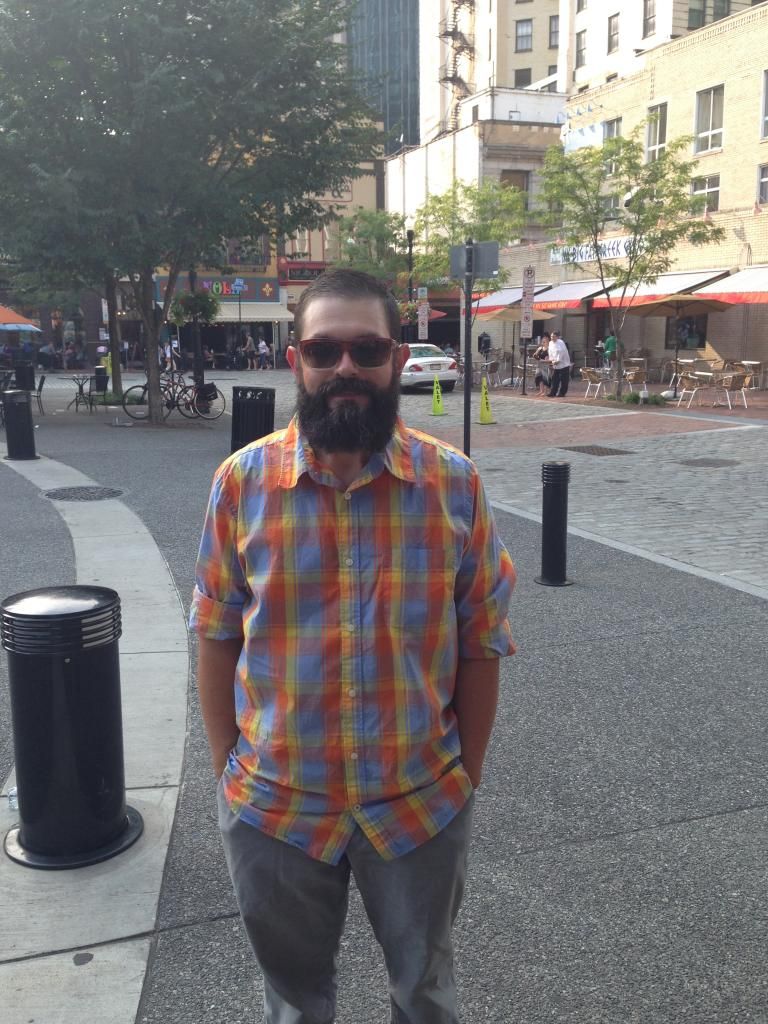 We walked around a little bit before dinner and snapped some photos of the city. The buildings were beautiful and gigantic!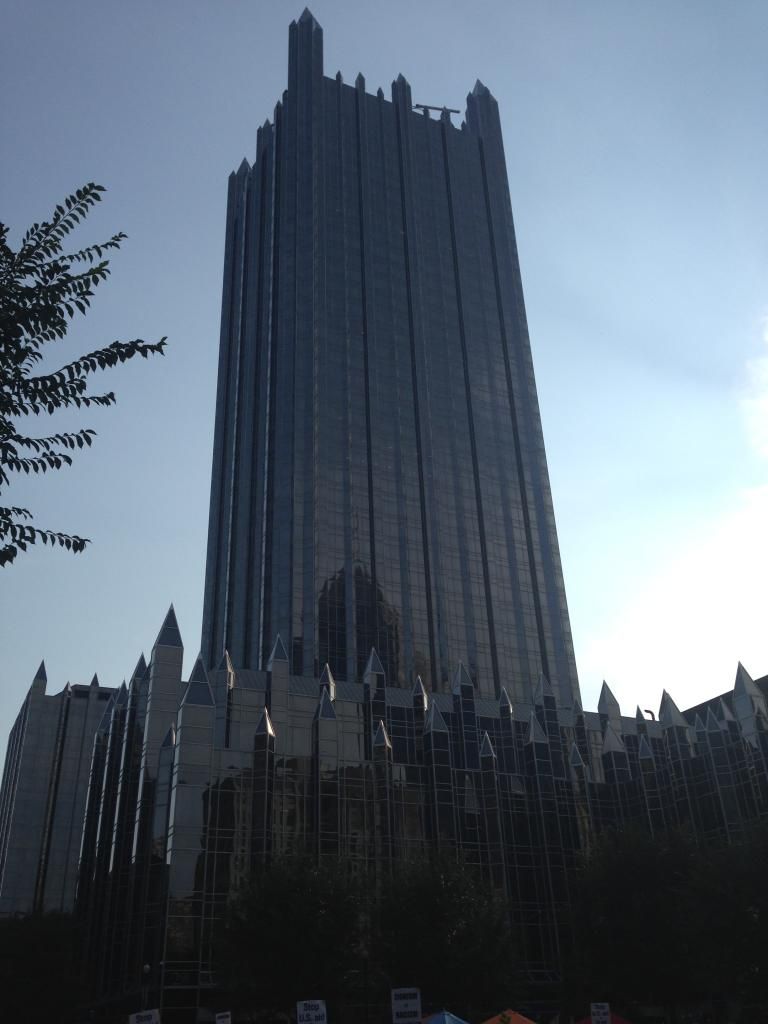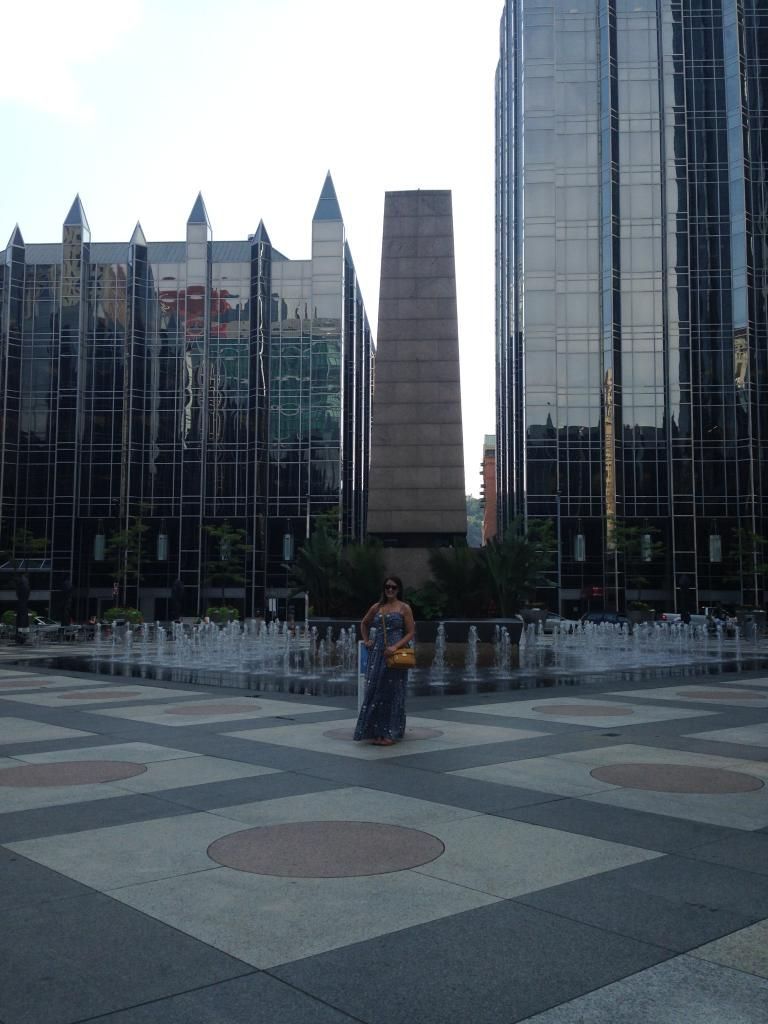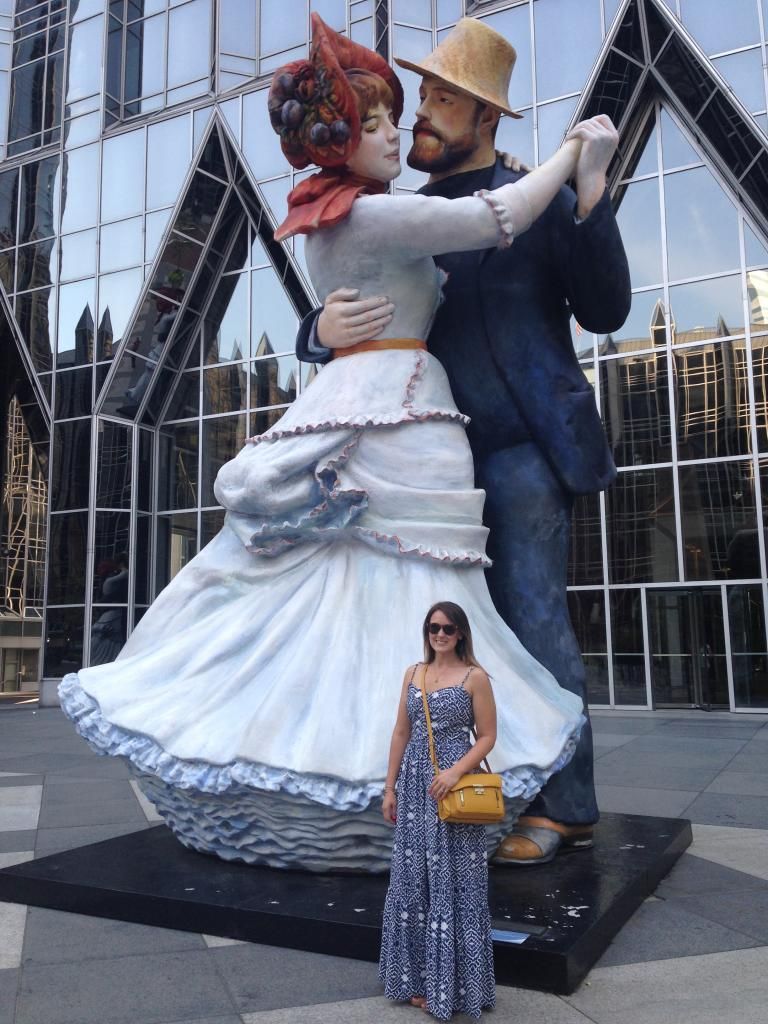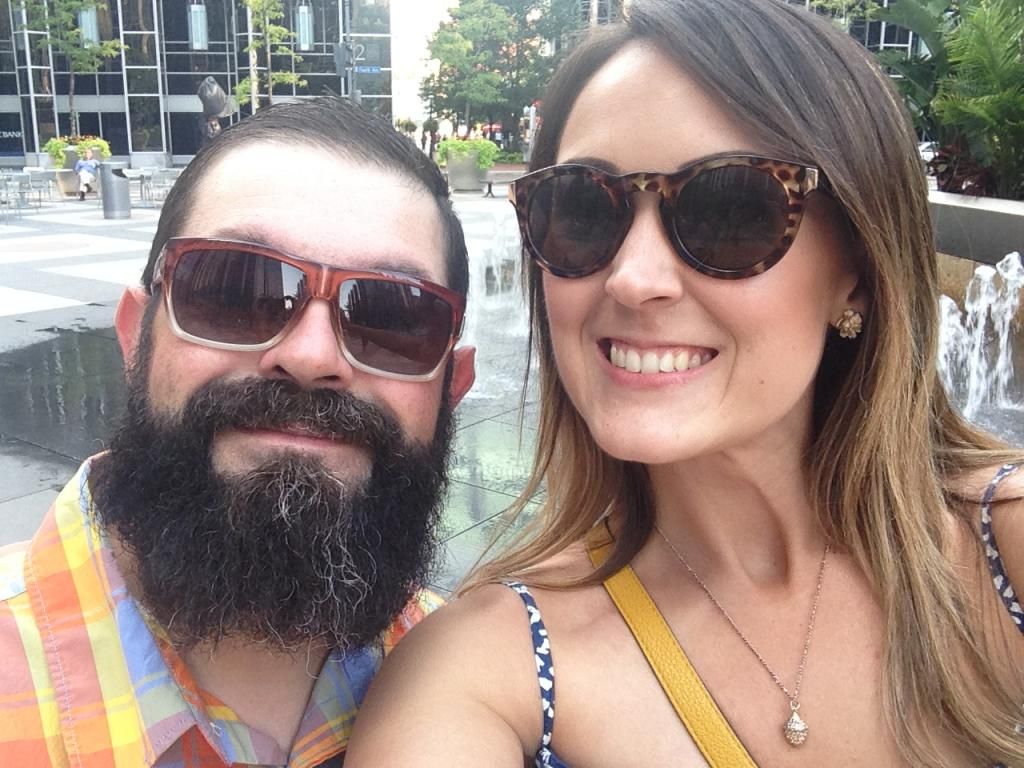 By that time we were completely starving, and it was good since it was time for dinner.
We met with the wonderful people from Visit Pittsburgh, along with the other bloggers who were going to be spending the weekend: Buffablog, Buffalo Eats, Pie Are Round, and Nicole Delamotte.
NOLA on the Square was a really cool restaurant.  The atmosphere was relaxed yet modern and the food is New Orleans-style with a modern twist...as you can see from a few of the dishes:
Frogs legs...I did not partake in this, but Nicholas said it was really good.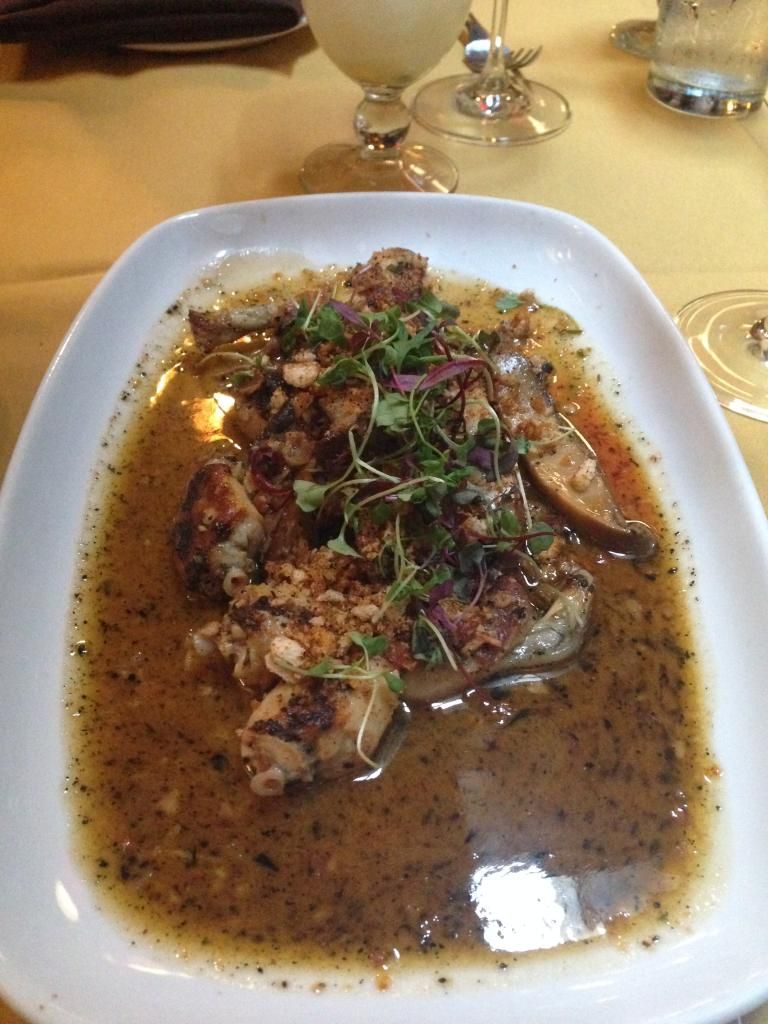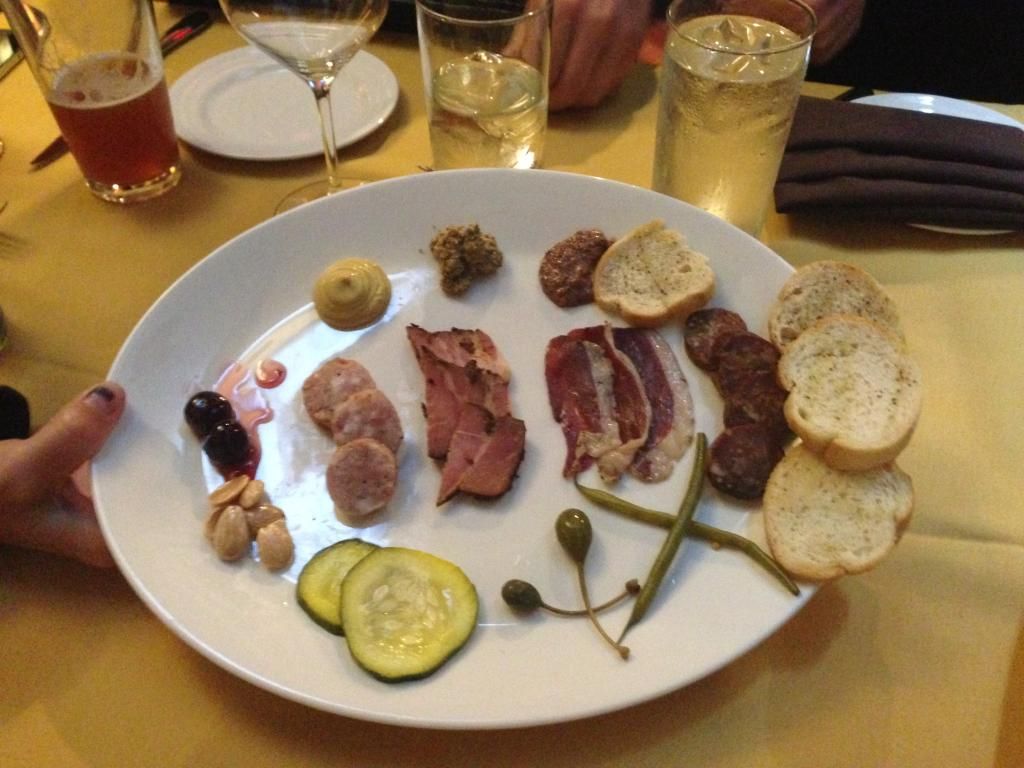 Nicholas' dinner was the seafood gumbo...I love how they served it in the little cast iron pot.  I tried some of his chicken, rice, and sausage, and it had great flavor.
I ordered the steak & frites...the steak was perfectly cooked, the fries were fresh potatoes, and the remoulade was seriously killer...I was obsessed with it.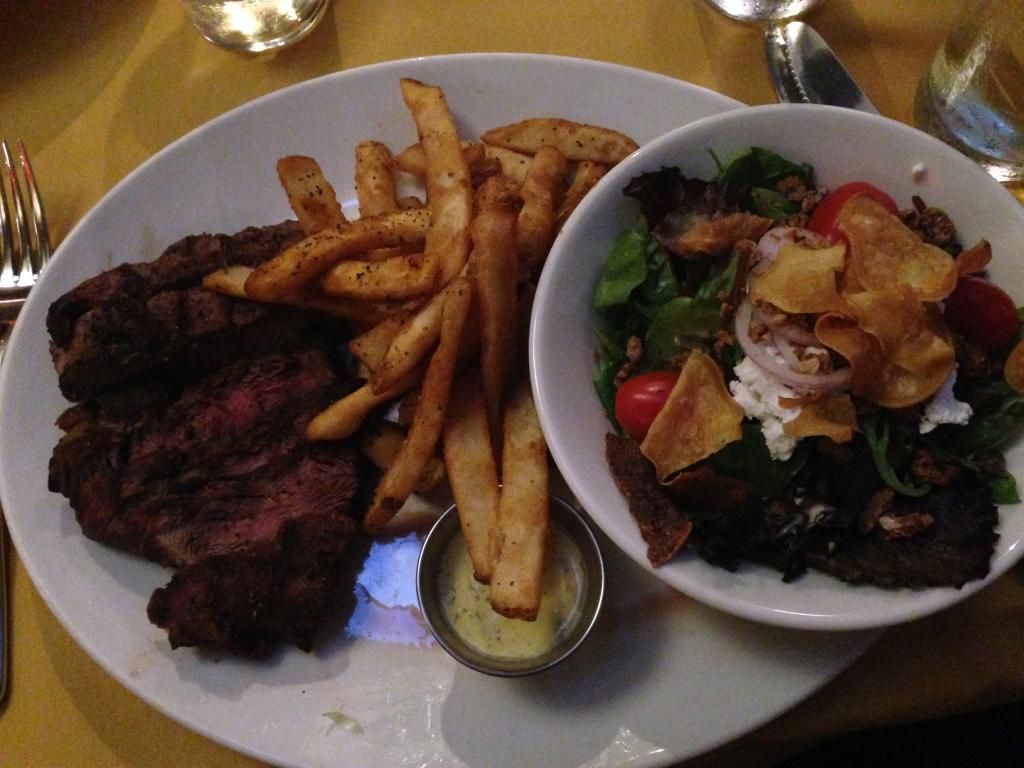 I was thinking of passing on dessert, but when I saw this on the menu I really couldn't refuse.  It was a strawberry and pear cobbler with sweet corn ice cream and caramel pretzel popcorn.  That's like all of my favorite things rolled into one.  The ice cream had actual little pieces of corn in it...it was so good!!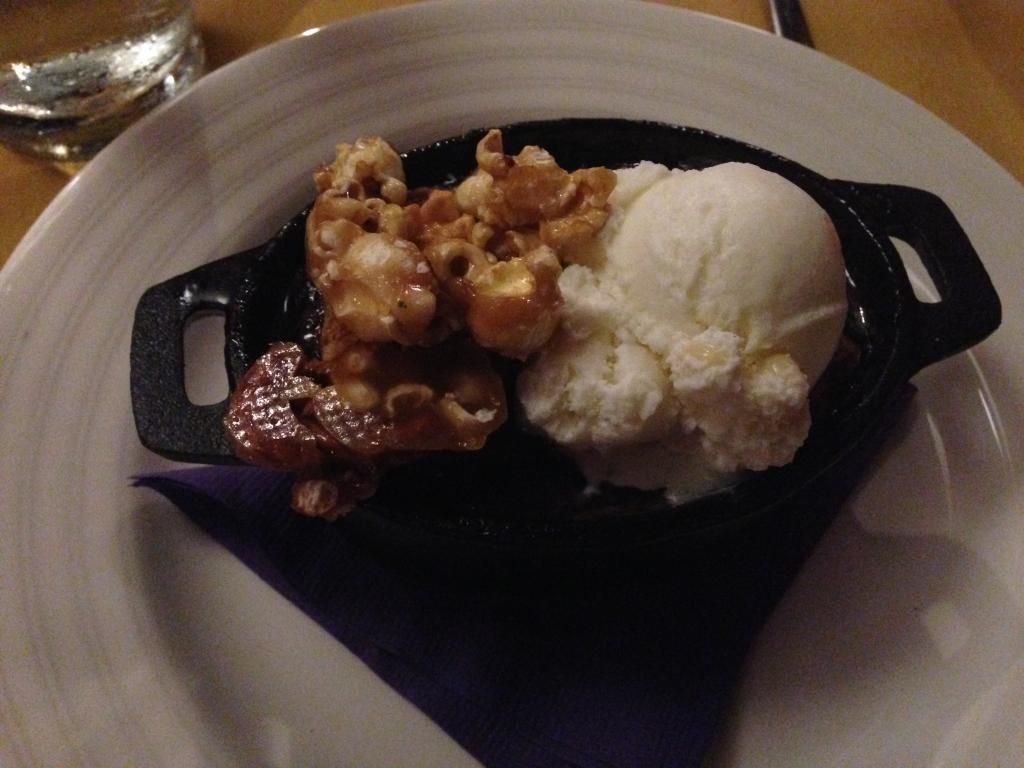 And this was Nicholas' dessert. Sweet Baby Jesus chocolate peanut butter beer. I don't drink beer because I can't stand the smell, but this smelled like a liquid peanut butter cup. He said it tasted exactly like that. That would probably be a really good ingredient to use in making a chocolate cake!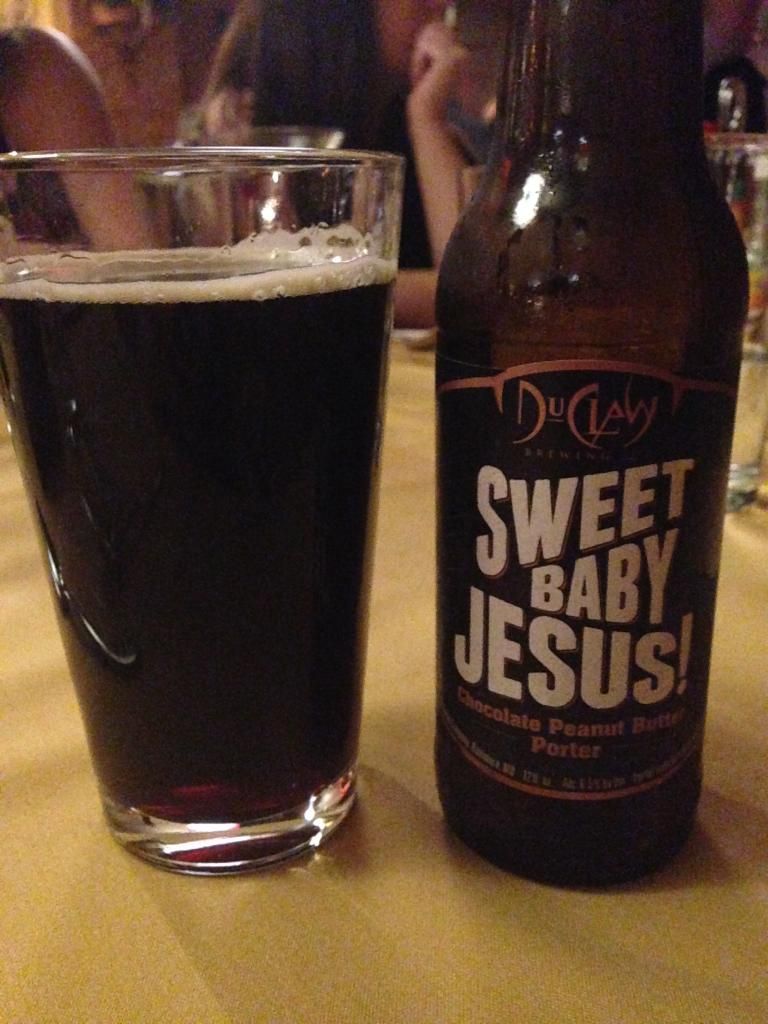 By the time dinner was over, we were all happy and full, so we decided to take the short walk back to our hotel to prepare for the busy next day. The Pirate's game was just letting out as we were walking back, so of course we had to take some photos on the bridge!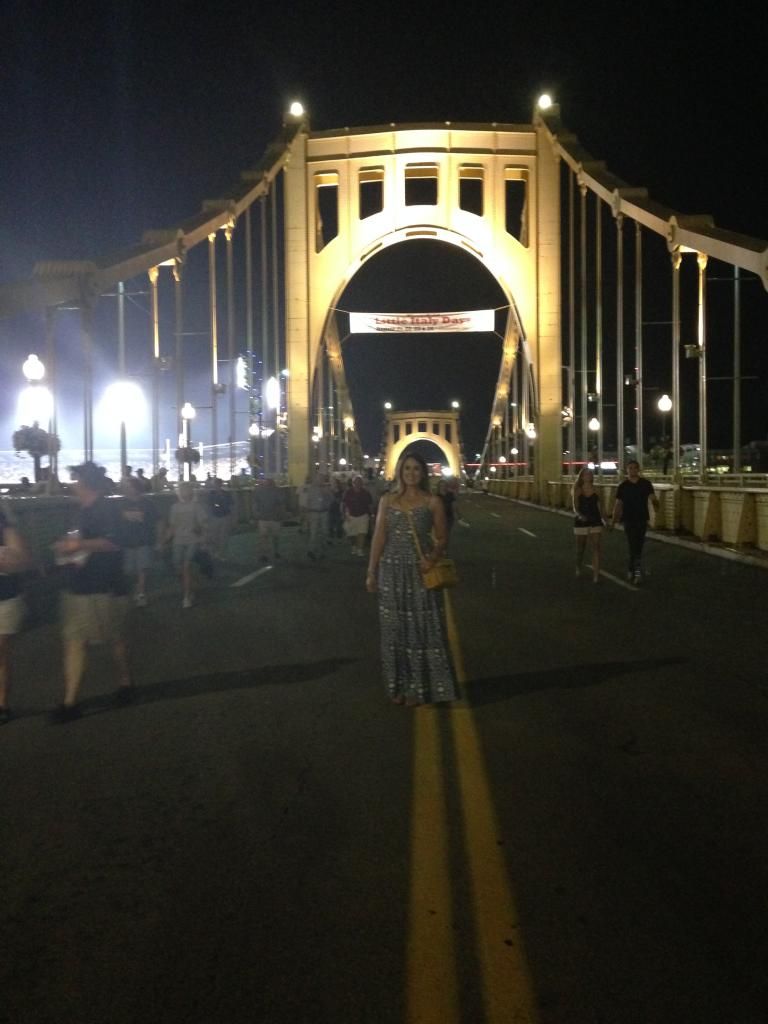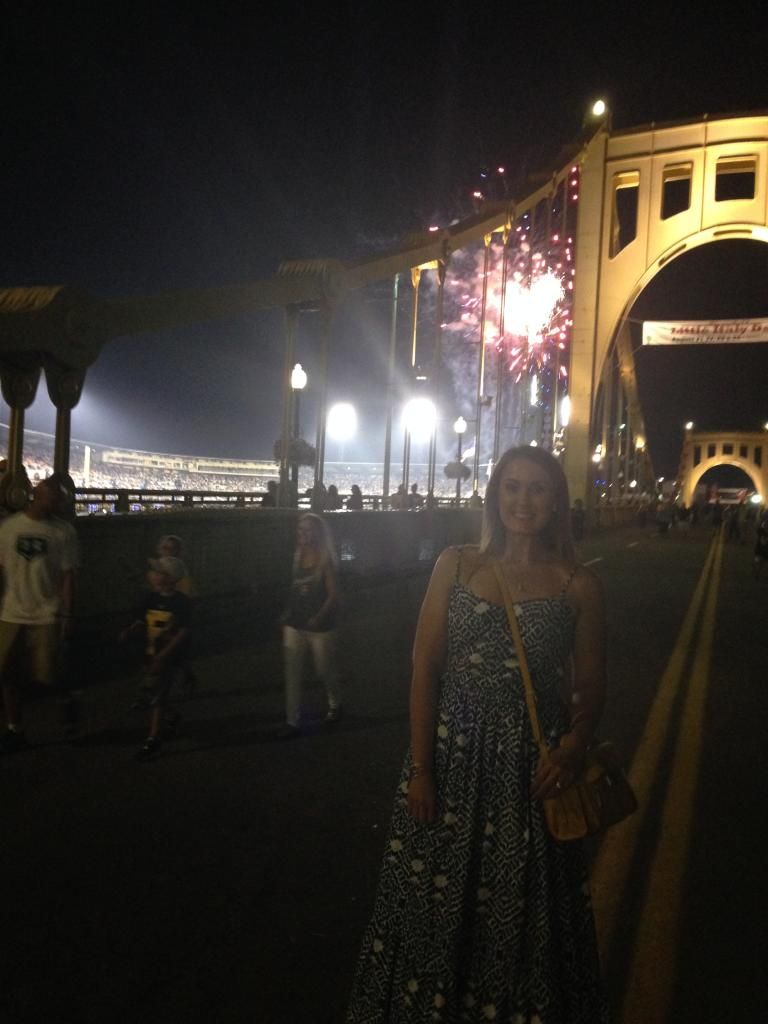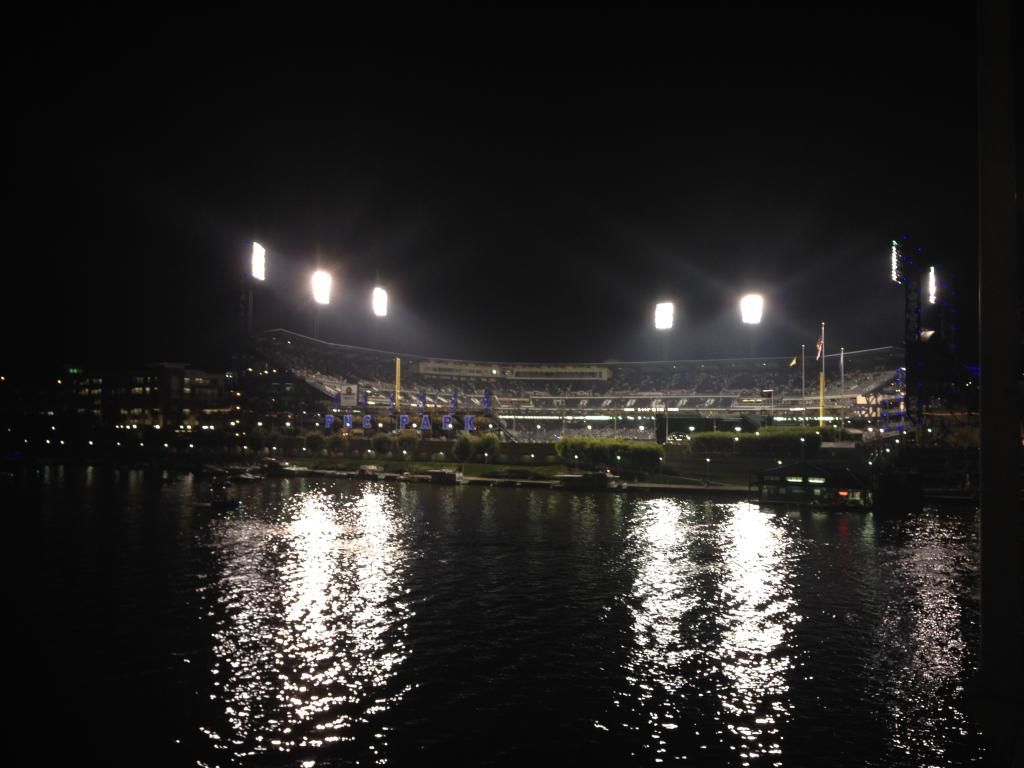 That's the end to our first exciting evening in Pittsburgh! Stay tuned for Part 2!