Personal Style: Minty Polka Dots
Now that the weather is finally getting warmer, I can wear skirts without tights! Glorious freedom!! This is the first time that I've worn my new shirt from Francesca's, and I absolutely love it. I feel like it is a shirt that I can pair with a lot of different bottoms. Here I styled it with my favorite polka dot skirt, which I've already featured on this blog a few times.
Mint is THE hot color of the season, and I think it pairs fabulously with the black and white skirt. I added the mint jewelry and belt which complimented the shirt perfectly. Now I still have to find me that darn mint clutch and I will be one happy lady.
Have you noticed that I actually look a teeny bit tan in these pictures? Well, I started using the Jergens Natural Glow lotion a little over a week ago, and it's working! My only gripe is the same problem I had years ago when I tried it...it smells so bad. Jergens marketing people, you totally lied to us. They claimed that the lotion now doesn't have a smell to it, but seriously, it smells just as bad as it did when I first used it. But I guess to look a lot less like the walking dead, I'll put up with the smell until I get a real summer tan.
DETAILS
Top: Francesca's - SIMILAR Skirt: White House Black Market Factory - SIMILAR Shoes: Jessica Simpson via DSW - SIMILAR Belt: Target Bracelet: Groop Dealz - SIMILAR Ring: Kohl's - SIMILAR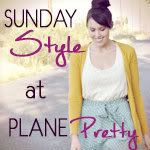 "