Nickel City Gritty: Rachel Casey
It's hard to find a good hairstylist.
Like, really hard.
It takes a LOT of trial and error to get to the point of pure bliss and happiness. For me, I have to be able to trust my hairstylist with my life. I mean, my hair is pretty serious business to me, so I basically put all of my faith and trust into the person who will be working their magic on my hair.
I've been to many a salon in my 34 years on earth, and for one reason or another, have moved on from all of them...until now.
Allow me to introduce you to Rachel Casey. Rachel and her husband Rich opened up Rust Belt Barbering & Salon almost three years ago on Elmwood Avenue. My friends Billy and Pat actually referred me to Rust Belt after I expressed interest in trying out a new salon. After meeting Rachel for the first time, I knew I'd found my girl. She's a master at color. She's turned me everything from purple to pink to red and now the blue that I've been rocking for over a year now.
I recently sat down with Rachel and chatted about her love of otters, Cardi B, and Jersey Shore. Take a listen to her playlist while you read on!
This is Nickel City Gritty, and this is Rachel Casey of Rust Belt Barbering & Salon.
Tell me about how you and your husband started Rust Belt Barbering?
It was actually my husband's idea. We thought about how there was a demand and a new beginning of barbershops and how there was more to the craft. Him, being a business guy, thought, "Hey, this is something we could get behind!" There was a lot of good barbershops in the city already, but we just wanted something a little bit different where people could be themselves, especially being a unisex barbershop, where you can come as who you are and how you are and you can get service, no questions asked. I was a little bit iffy about it in the beginning. I've been doing hair for ten years now and owning a business wasn't something that I had in my mind, but after he told me that I could pick my color line and do what I wanted to do, I was like, "Wow, okay that would be nice to do my own thing." Once I started getting more involved, I was getting more excited, and it's kind of crazy that we've been open for almost three years now! It's insane. It's good having that partner in your life that pushes you outside of your comfort zone, because who knows where we would be if we didn't open up Rust Belt. It's cool to look back and see how far we've come.
Describe your personal style.
My personal style would be, oh god, definitely the typical mom who shops at Target. Everything I have on is from Target! I remember I went to my first Target about 8 years ago, and it was brand new to me, and I still love it. I try to dress up on occasion, but most of the time I'm running around with the kids, so I'll need an easy outfit to wear. I'm never in heels, I'm a klutz anyway so I'd trip and fall. So I need something easy to wear. I get up early in the morning to get the kids ready so I don't have time to "fully" get dressed. So I'm definitely the typical mom who shops at Target. *laughs*
What are five things that you can't live without?
Coffee, definitely my phone....ummm, my goodness why is this so hard? Oh, a hair elastic!
Yes, that's a good one!
Mmmhmmm...I didn't have one the other night and my hair was out to *here* it was a mess!
Okay, two more!
Definitely hugs from my kids....and, just goofing with my husband! You've gotta be goofy, you've gotta have fun every day.
What is a random award or recognition you feel like you deserve?
I should definitely have an award for patience. You try dealing with all of the guys in my shop and you'll understand why. *laughs* They're great, but definitely I'm very patient.
I mean, you're actually surrounded by men all day long.
Yeah! And even when I'm home, I'm surrounded by guys all day long!
What is one person, that if you met them, would reduce you to a crying mess?
Probably Cam Newton from my Carolina Panthers. I have a soft spot for him and I love him so much! I'm hoping, when they are here for the pre-season game, somehow, in the magical land, I get to see him and meet him. We should start a petition. I have earrings with his face on it. I'm a die hard.
What is on your playlist?
Right now it's Cardi B! I don't know why, but she brings out my inner dancing crazy self. Definitely Cardi B but I'm an alternative type of person. So Memphis May Fire, my friend's band Vana...but I gotta love NSync too. I like a mix. I like a good dance beat and I like making a fool of myself when I'm with the kids and they give me that really weird "Mom, stop" look.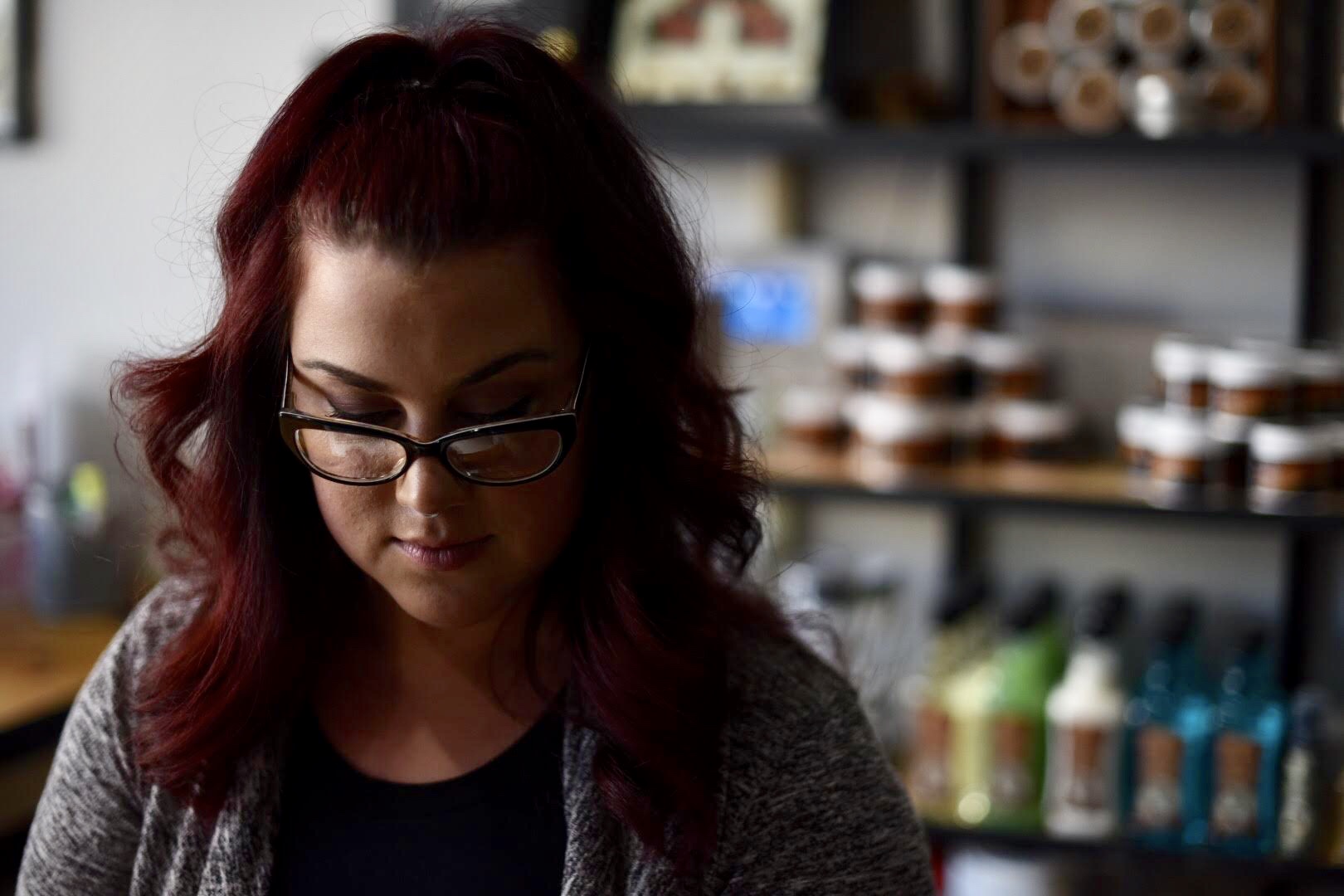 "Don't let other people's opinion dictate what you think about yourself."
What is the best piece of advice you've ever received?
Don't let other people's opinion dictate what you think about yourself. I think that is something I want my kids to grow up learning. It doesn't matter what other people think about you, if you're happy with yourself, that's all that matters. You're the one that has to live with yourself...you go home with yourself every day. Other people don't, and usually when they give you their own opinion about you, they're not satisfied with their own life.
What would you tell your teenage self if you could go back in time?
Oh man...don't date. Like, I wasn't a big dater to begin with but I just remember I wasted half of my senior year crying over this one guy, and I look back and I'm like....why? Why did I care? Because I knew I wasn't going to marry that person, so what was the big deal?
What fad or trend do you hope comes back?
You know what, I have no idea! I feel like trends are so overdone. I just remember all of the crazy fads when I was younger with the little butterfly clips in your hair and then the skirt with pants underneath and the Avril Lavigne tie and I never want those to come back.
If you could learn how to do anything, what would it be?
Speak Spanish. I'm an awful Garcia. I cannot speak it. I know a little bit, but I'd love to be fluent. It's my grandfather's first language so it'd be nice to surprise him one day.
You should get that Rosetta Stone!
I know but it's SO expensive!
What are some of your favorite bars or restaurants in Buffalo?
I love Thin Man. Their Bliss IPA is my favorite. I go to Aroma a lot. Cantina Loco, love their queso, it's so good. ABV for their tater tots. SO good. I don't get to really ever go out with the kids...we usually go to Dave & Busters. I love going to Thin Man and sitting on their balcony, especially when all of us from shop get to go out after work. We spend a lot of time together, so going out and having fun is necessary.
What is your spirit animal?
An otter. Because they're cute and cuddly! I just love otters. My entire family just has this thing with otters. They are adorable...I wish we could have them as pets. They always look like they're having fun and they're goofy and they fall asleep by holding each other's hands so they don't swim away.
We should be more like otters.
Yes! Everyone should be more like otters.
What is the best gift you've ever received?
It's gonna sound so cliche for me to say but definitely my kids. I was introduced to my stepson when he was three and seeing him grow and develop and then having my own child too...it's just like reliving my own childhood all over again. You get to do all of the fun things again. They are good kids and they are so happy, and I think that's what makes me happier than anything else.
What is your guilty pleasure?
Jersey Shore.
Oh my god I love itttttt!
Did you see what happened with Ronnie today? So much drama!! I love the new series that's out right now. Jersey Shore and nachos are my two guilty pleasures.
And eating nachos while watching Jersey Shore is the best combination.
It's a double whammy!
What fictional place would you most like to go?
Could I be on the series of Friends?
Yes! Central Perk is fictional!
I want to have a cup of coffee with them. I want to see the Ross and Rachel drama. I want to be friends with Pheobe! Everyone needs a friend like Pheobe! I can never get tired of that show. Love Friends.
How would you survive a zombie apocalypse?
Just become a zombie. *laughs* There's no outliving that! Just be part of the group. I can't run that fast, I don't know any type of skill to kill zombies, I'm pretty much screwed. I'm done.
What do you want to be when you grow up?
Very content. I feel like in the world that we live in now, everything is so uncertain, that the only thing that should really matter is if you're happy with your own life. There's nothing you can do about outside noise, just knowing that you can sleep really good at night about who you are and the environment that you put yourself in. Just being the best person that you can always be, and that's it. I have my dream job, I have a house, I have kids, I have a marriage, I have great friends and great family. I feel like if today was my last day I'd be happy knowing that I had everything that I needed and I was a good person.
Thank you SO much Rachel for the interview! If you would like to try out Rust Belt for yourself, they are located at 448 Elmwood Ave in Buffalo.