The Charcuterie Board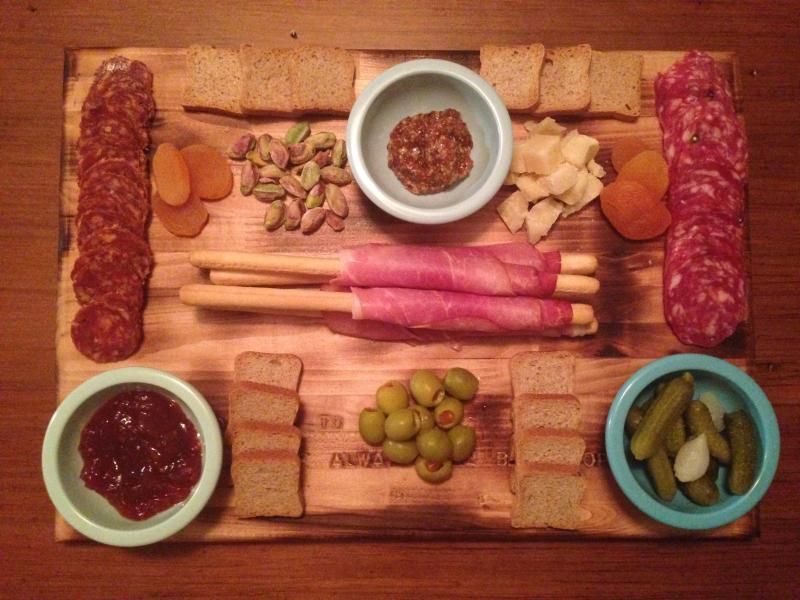 This Valentine's Day, I wanted to do something special for dinner.  I'm normally not the "Susie homemaker" type that cooks dinner every day of the week. I'm more of the "Betty Crocker" type who will bake you anything and everything, so doing something savory is quite challenging.
Charcuterie boards are a huge thing in upscale restaurants, and I wanted to try my hand at making one.  I guess it all starts with the board, right?  Luckily, Nicholas had made this fabulous wooden board and I knew it would be perfect to build my delicious masterpiece.
Charcuterie boards are usually a mix of different meats, fruits, nuts, cheeses, spreads, and veggies.  I started with my meats.  I bought a really great organic hot chorizo, black forest prosciutto to wrap around breadsticks, and a sweet salami.  I added a little pile of pistachios (a great tip from my brother) and bits of parmesan cheese which were deliciously nutty and fruity at the same time.  For spreads, I went with an apple cranberry chutney and a whole grain mustard which both worked really well with the savory meats.  I finished off the plate with dried apricots, olives, and legit cornichons, which had the most intense flavor.  Oh, how could I forget those adorable little wheat toasts?  So cute, right?
I painstakingly arranged these goodies on the board, and I think it turned out beautiful! It was also crazy delicious.
Have you ever made a charcuterie board before?