Pecan Chocolate Chip Banana Bread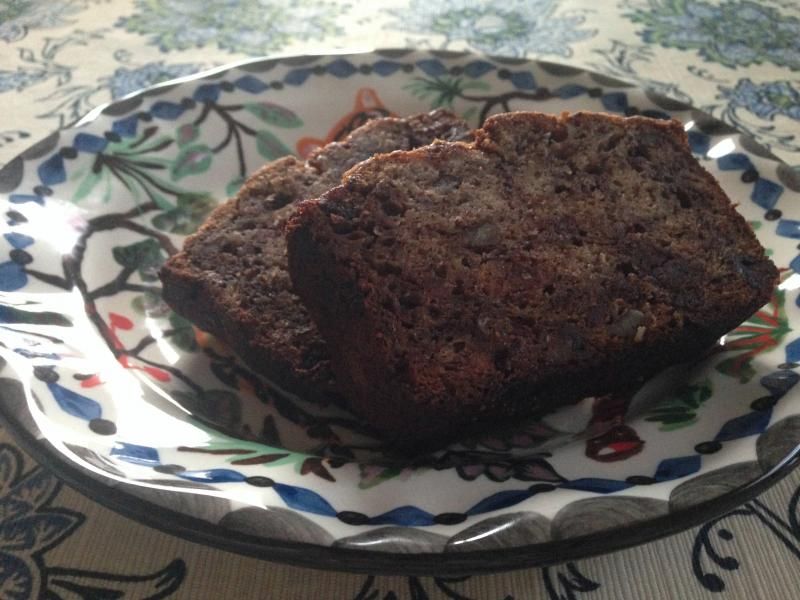 For a great while now, I've been on a quest to find the perfect banana bread.  I've mentioned it before, but I think there must be something actually wrong with me...I physically can't make a perfect loaf of banana bread.  I either don't bake it long enough and it's gooey, or I overbake it and it's burnt, or it's dry and terrible.
To my amazement, I think I'm actually coming close.  I found this recipe through Smitten Kitchen, one of my favorite blogs, and it's definitely a winner.  With a few tweaks of my own, I turned it into a yummy dense loaf full of chopped pecans and dark chocolate chips.  It's super moist and has great banana flavor.  I'm definitely going to make this my go-to recipe from now on!
Pecan Chocolate Chip Banana Bread (adapted from THIS recipe)
4 ripe bananas, smashed 1/3 cup melted unsalted butter 3/4 cup light brown sugar 1 egg, beaten 1 teaspoon vanilla 1 teaspoon baking soda Pinch of salt 1 teaspoon cinnamon 1 1/2 cups flour 1/2 cup dark chocolate chips 1/2 cup chopped pecans
Preheat the oven to 350°F. With a wooden spoon, mix butter into the mashed bananas in a large mixing bowl. Mix in the sugar, egg, vanilla, then the cinnamon. Sprinkle the baking soda and salt over the mixture and mix in. Add the flour and mix.  Gently combine in the chocolate chips and chopped pecans and pour mixture into a buttered loaf pan. Bake for 50 minutes to one hour, or until a tester comes out clean. Cool on a rack. Remove from pan and slice to serve.